Sarah Schmid - keskarimme Coloradosta
23.2.2023
Hey Sarah and happy Valentine's Day!
Thanks!
Was it planned that your husband visits you in Kuopio on this week?
No it just kind of happened that way! He asked for a week off in February for his work and it happened to be this week
Cool! Is he there right now? Hey Josh!
Yep! He says hi!
I'd like to know how does it feel to spend a season as a volleball widow in the States?
It definitely can be hard at times but it is great to see my wife pursuing her passion and it gives me a good excuse to visit a lot of cool countries
I hope that there's also an effect that makes you somehow even closer? Like being excited over her games thousands of miles away and taking good care of her pet bunny?
Absolutely! With the time difference I sometimes make the coworkers watch games in the office with me. And when I'm at home Watson and I will have watch parties for all the games. Plus we have the 4 months of off-season to look forward to when she's back in the States
Great! Thanks Josh and back to you Sarah! How did you begin your volleyball journey as a child?
I played a lot of sports growing up and in 5th grade played volleyball for my school. My mom played volleyball too so she wanted me to play at different volleyball camps and I ended up falling in love with it. From high school on I only focused on volleyball
Weren't you originally from Colorado? And how are junior sports leagues arranged there across the pond? Are they always school related?
Yes I'm from Colorado! We do it a bit differently in the US. You can play volleyball for your school in the fall and you play other schools in your area and have a state championship at the end of the season. Then in December you play for a club that has teams from ages 12-18. You play from December until June and have a national tournament at the end of the season. During the club season you have big tournaments, most in a different state, where you play teams from all over the US. Usually you'll have one big tournament a month unlike the high school seasons where you play two games per week.
This is for volleyball. Some other sports are different
Wow! Sounds like you get to play a lot of matches all year round?
Ya we play quite a bit of matches! The summers are off though
Cool! So you're a middle blocker. Have you played other positions in the past?
Not really I've been a middle blocker most of my life! I've played opposite a few times but always find my way back to the middle
What are your strengths in the middle?
I am an efficient attacker and can hit off one foot behind the setter well. I think I also bring positive energy to the court
We'll discuss the positive energy in a minute, but what sets/attacks are your favourites?
I love hitting everything but I especially love hitting slides and back ones
So you're back on track after injuries and you sure have shown that it feels good!
Yes I'm definitely still working hard every day to get better and stronger but overall I've been happy with how my body has handled this season coming back from 2 surgeries
You had your problems with your shoulders, am I correct? How did you get those injuries and how did you recover so quick?
Yes my right (hitting) shoulder started hurting on and off during my season in Switzerland and then that summer it was a stabbing pain every time I hit. I did some physical therapy and got a cortisone injection but it still hurt a lot during my season in France, so after that season ended early because of COVID I decided to get surgery on it to fix the issue. Then almost a year later I dislocated my left shoulder in the ocean when I was on vacation in California with my family. They popped it back into place but I had torn my capsule in that shoulder, so if I played without surgery it would be a very high chance of dislocating it again, so I had to get surgery on that one a year after the first surgery. And they actually took a long time to get back to being…
Do you consider yourself lucky for being able to play at all let alone as a pro?
Yes I feel extremely lucky to be able to play pro. After I dislocated my other shoulder after working so hard for a year on the right one I did not think I'd be able to come back and get back into shape enough to play pro, so I'm very grateful I was able to play overseas again
About the positive energy. When you block someone or get a good attack point you truly show the good feeling. Have you always been like that or did the long sick leave give it an extra boost?
I think a little bit of both. I've always been like that but I think I cheer even more now after my long break
Well I for one enjoy seeing that happiness on court! One more thing: What's your number 1 track to boost up the morale before a match or a workout or something? The "Rocky and the stairs" song?
Ever since I played basketball in 8th grade I've really liked the song "Get Buck in Here" by DJ Felli Fell to pump me up before games!
Thanks Sarah & Josh! Enjoy the playoffs in Puijo and keep us posted about important Watson stuff!

Sarahin pelajaaprofiilin löydät täältä.
Teksti: Antti Hirsaho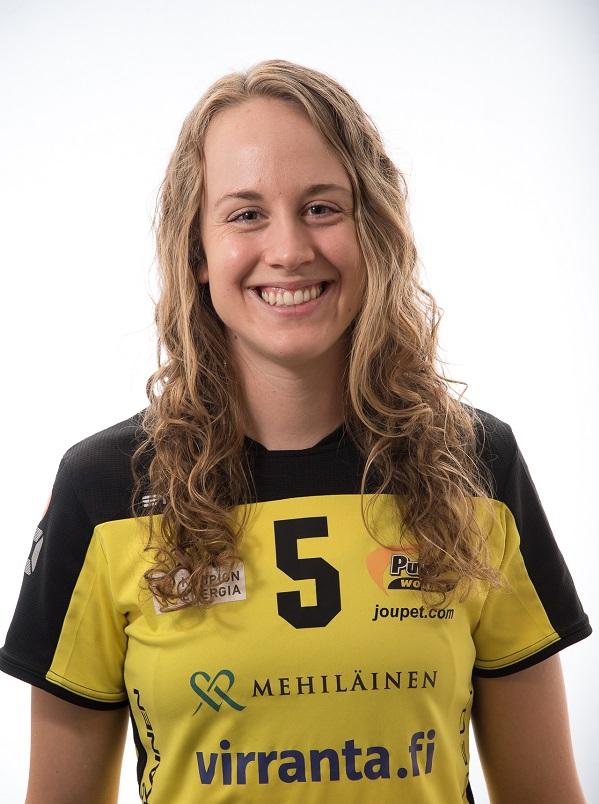 Sarahin kummiyrityksenä toimii: